Non woven sponges
KITCHEN SPONGES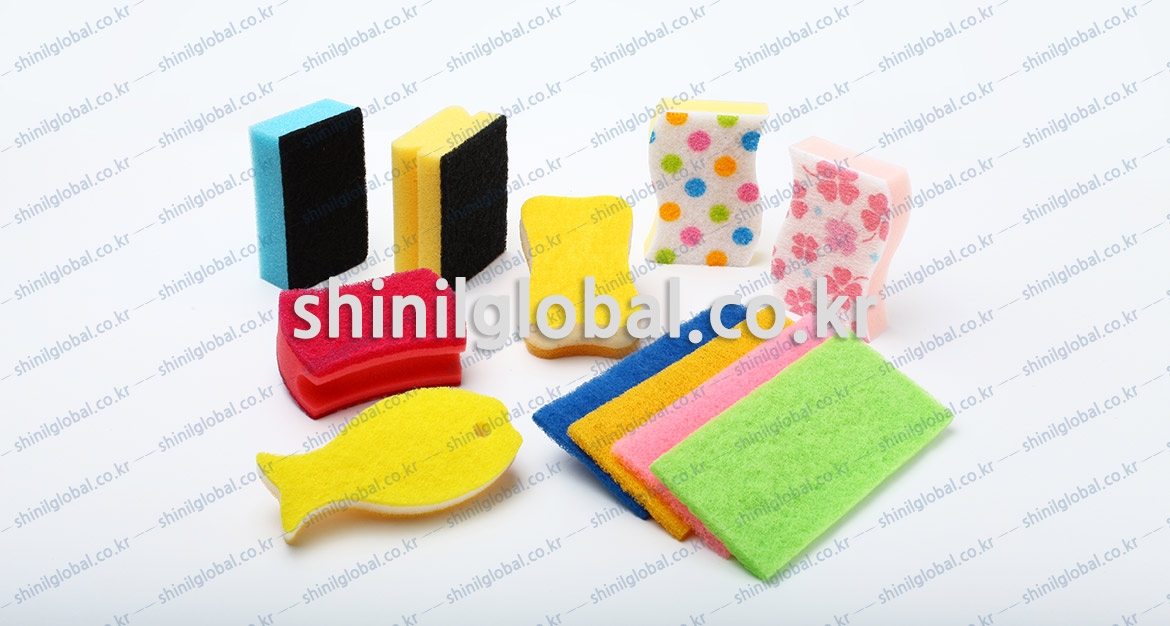 1. It contains an abrasive component in Nylon or Polyester. It facilitates to remove stains stuck in the kitchen wares effectively.
2. The nylon material is sturdy enough to handle the most stubborn stains while being safe enough to use on non-stick surfaces.
3. Bubbles well with less detergents, and may keep its original shape unchanged even after using.
4. Some products are designed to grasp easily.
5. Eco-Friendly materials such as coconut shell and sisal can be used and applied upon the request from clients.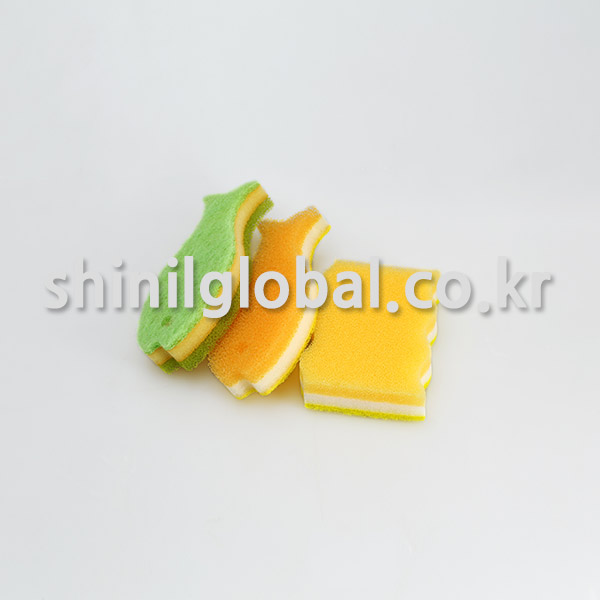 SSG-1
| | |
| --- | --- |
| Size(cm) | Fish : 14×6.5×2.5, Rectangle : 12×6.5×4 |
| Material | Polyurethane with Nylon or Polyester or mixed |
| Color | |
SSG-2
Size(cm)
9x7x4.3
Material
Polyurethane with Nylon or Polyester or mixed
Color

yellow & green
yellow & black
SSG-3
| | |
| --- | --- |
| Size(cm) | 12×6.5×2 |
| Material | Polyurethane and Polyester |
| Color | |
SSG-4
Size(cm)
11×7(5.8)x3.2
Material
Polyurethane with Nylon or Polyester or mixed
Color

white & orange
white & yellow
SSG-5
Size(cm)
11×7.5×3.5
Material
Polyurethane with Nylon or Polyester or mixed
Color

yellow & green
yellow & black
SSG-6
| | |
| --- | --- |
| Size(cm) | 10.5×6.5×3 |
| Material | Polyurethane with Nylon or Polyester or mixed |
| Color | |
SSG-7
| | |
| --- | --- |
| Size(cm) | 10.5×6.5×4 |
| Material | Polyurethane with Nylon or Polyester or mixed |
| Color | |
SSG-8
| | |
| --- | --- |
| Size(cm) | 11x7x3 |
| Material | Polyurethane and Polyester |
| Color | |
SSG-9
| | |
| --- | --- |
| Size(cm) | 11x7x3 |
| Material | Polyurethane with Nylon or Polyester or mixed |
| Color | |
SSG-10
| | |
| --- | --- |
| Size(cm) | 9x6x3.5cm |
| Material | Polyurethane with Nylon or Polyester or mixed |
| Color | |
SSG-11
| | |
| --- | --- |
| Size(cm) | 11×6.5×2.5cm |
| Material | Polyurethane with Nylon or Polyester or mixed, fabric |
| Color | |
SSG-12C
Size(cm)
9×3.5cm
Material
Polyurethane with Nylon or Polyester or mixed
Color

green & white
blue & white
SSG-12F
Size(cm)
9×3.5cm
Material
Polyurethane with Nylon or Polyester or mixed
Color

green & white
blue & white
SSG-13
Size(cm)
11x7x2.5cm
Material
Polyurethane with Nylon and Urethane form
or Polyester or mixed,
Color

green & yellow & white
green & pink & white
SSG-14
Size(cm)
9x7x4.5cm
Material
Polyurethane with Nylon or Polyester or mixed
Color

pink & purple
orange & purple
green & purple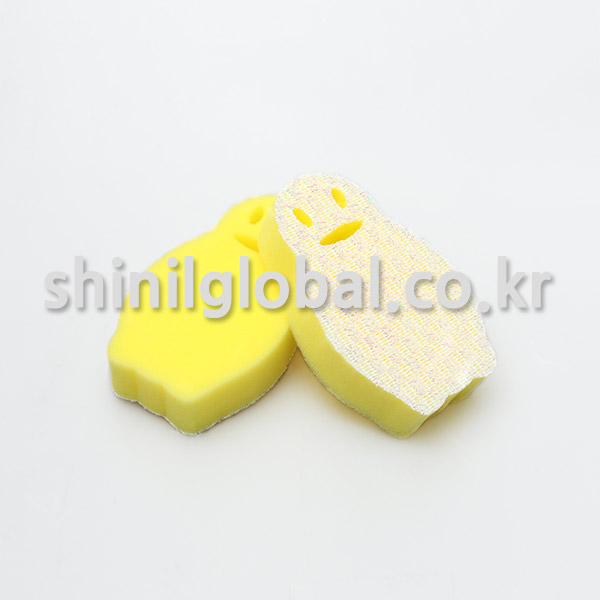 SSG-15P
| | |
| --- | --- |
| Size(cm) | 12.5×7.5x3cm |
| Material | Polyurethane or Polyester |
| Color | |
SSG-15S
| | |
| --- | --- |
| Size(cm) | 11.5X7X2CM |
| Material | Polyurethane or Polyester |
| Color | |
SSG-16
| | |
| --- | --- |
| Size(cm) | 7.2×4.5cm |
| Material | Polyurethane with Nylon or Polyester or mixed |
| Color | |