METAL SCOURER
1. Rust-Free. (Except Coated Copper Mesh and Galvanized Mesh) It can be used for long period of time, while keeping its original shape for a long time.
2. Easy to rinse and dry.
3. Easily scrub away stubborn grease and grime. Also, they are strong and flexible to use on ovens, grills, pots, pans, tiles and more.
4. Spiral design prevents injury to the hands.
5. Copper and Brass scourers have antibacterial properties.
6. Mesh products - they are strongly recommended for BBQ racks or tough stains.
7. Variety packing methods and custom packaging are available. Customers can make their right packaging according to the channels and markets they are focusing on.
STAINLESS STEEL SCOURER (SS)
Weight(g)
10g~100g
Diameter
1) AISI 304 : 0.08 ~ 0.23mm
2) AISI 410, AISI 430 : 0.13 ~ 0.23mm
Material
AISI410, AISI430, AISI304
BRASS SCOURERR (BS)
| | |
| --- | --- |
| Weight(g) | 13g~100g |
| Diameter | 0.15~0.23mm |
| Material | Copper 65%, Zinc 35% |
metal scourers
COPPER MESH SCOURER (CS)
| | |
| --- | --- |
| Weight(g) | 15g~100g |
| Diameter | 0.22 ~ 0.25mm |
| Material | 100% Copper |
COPPER Spiral
| | |
| --- | --- |
| Weight(g) | 15g-100g |
| Diameter | 0.17~0.22mm |
| Material | Steel and Copper |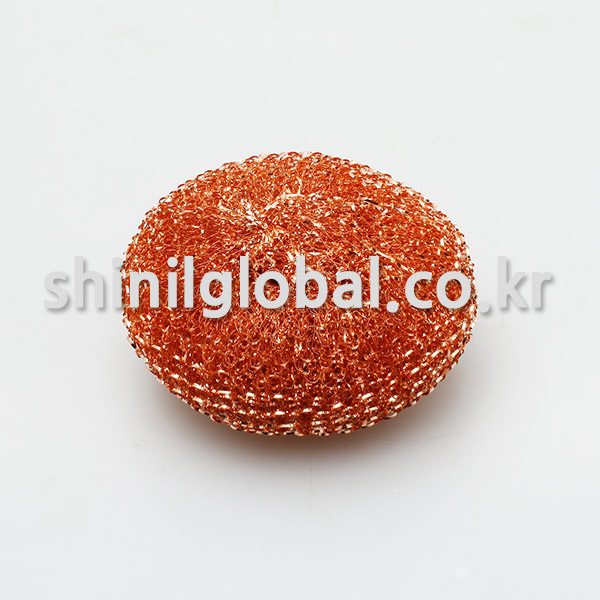 COATED COPPER MESH SCOURER (CCS)
| | |
| --- | --- |
| Weight(g) | 12g~100g |
| Diameter | 0.18~0.22mm |
| Material | Steel and Copper |
GALVANIZED MESH SCOURER (GS)
| | |
| --- | --- |
| Weight(g) | 12g~100g |
| Diameter | 0.19~0.23mm |
| Material | Steel and Zinc |
CS, CCS, GS WITH HANDLE
| | |
| --- | --- |
| Weight(g) | 20g~30g |
| Diameter | 0.18~0.22mm |
Stainless mesh
| | |
| --- | --- |
| Weight(g) | 15g~100g |
| Diameter | 0.17-0.22mm |
| Material | AISI 410, 430 |